Meet the Mitchell Chiropractic Team
Dr. Benjamin Mitchell
"Simply put, I was a skeptic. For months I suffered with back pain. After a few spinal adjustments, the majority of my pain was gone. That's when I decided I wanted to be a chiropractor in Dacula."
Dr. Mitchell received his pre-chiropractic education at Emory University in Atlanta where he studied the basic sciences such as biology, physics, organic and inorganic chemistry, along with physiology and anatomy. On completion of his courses he obtained a Bachelor of Science in Biology.
After completing his study there, he was accepted at Life Chiropractic in Marietta, Georgia. During his four years at Life, his course load included a major emphasis on anatomy and human physiology, x-ray, diagnosis, chiropractic adjusting techniques and patient care in the Life Chiropractic public clinics. After graduating Summa Cum Laude in 1996, he returned to the Gwinnett county area to establish his practice
"We love first time chiropractic patients" comments Dr. Mitchell. "I remember how apprehensive and concerned I was when I went to the chiropractor for the first time. I make it a point to explain everything in advance, answer questions prior to the patients first treatment."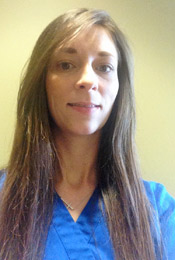 Dara Hugo, Office Manager/ Licensed Massage Therapist
Dara plays a vital role in the daily running of our office. She has worked with our office at different capacities while attending college and massage school. Dara has years of experience inhandling auto accident cases. If you have any questions pertaining to the handling of your auto case please feel free to ask Dara.
Dara's passion to help people find relief from pain and is what led her to completing her training in massage therapy. Dara is a Nationally certified massage therapist. She provides Swedish, Deep Tissue, Prenatal & Sports, Neuromuscular. She graduated with over 800 hours at Everest Institute.
Thanks for visiting our site. We look forward to meeting with you in person and learning how chiropractic can fit into your health care goals.
Contact us or click here to email us and we can arrange a time to explore your options!
---
Mitchell Chiropractic | (770) 614-4060